Conveyor Line Powder Coating Services
Serving NJ, DE, Maryland and Southeastern PA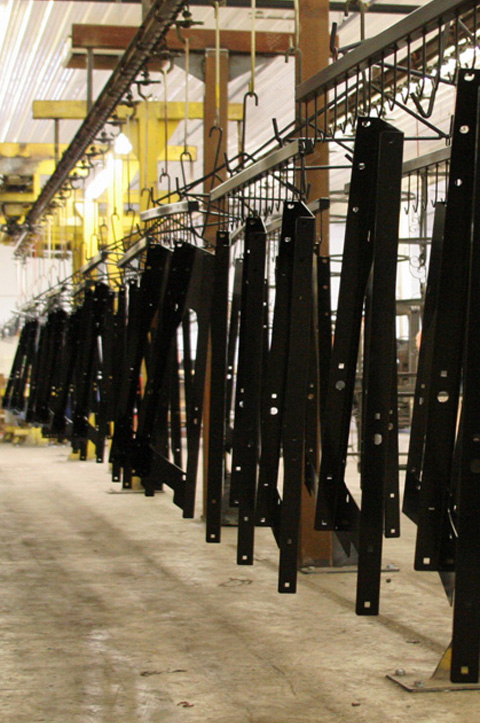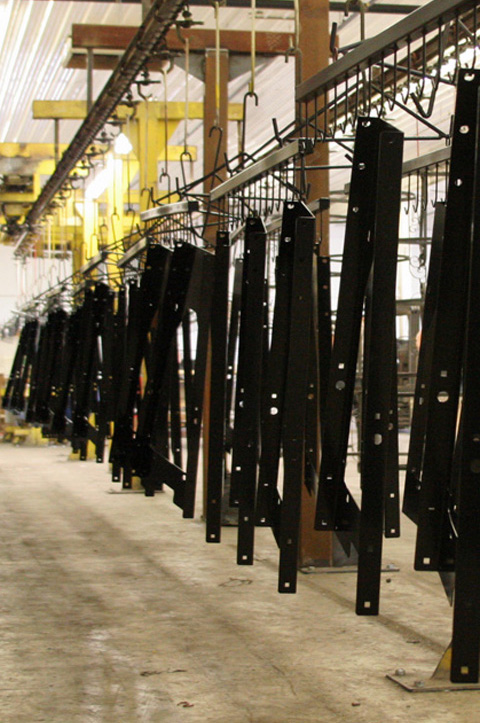 From small brackets and parts to stamped metal seating frames, agricultural components, farm equipment and much more, our state of the art conveyor system can handle all your powder coating needs.
Each piece that runs through our conveyor line is manually sprayed by our experienced staff to ensure quality. We can handle powder coating jobs from a single piece or complete production run involving thousands of parts.
Our powder coating process starts with a 5 stage pretreatment process that removes scale from laser cutting, then it applies an iron phosphate conversion coating and finally adds a sealant to prevent rust and stabilize the surface prior to powder coating. This ensures a durable, bonded finish that withstands the test of time.
Powder Coating Advantages:
Make parts, brackets, tools and other metal fabrications stand out with a variety of decorative colors
Protect the metal surface of parts, tools, brackets and other metal fabrications that will be used heavily or under demanding conditions
Prevent corrosion from moisture, heat and other adverse weather conditions
Make just about any metal surface tougher and more durable
Why Use Precision Coating for Your Powder Coating Project?
Save Time & Money

Our integrated conveyor line allows us to hang parts on the racks at one station and then unload them at another once they are complete without additional handling in between; as would be required in a batch style process. This means less labor and lower cost for you.
Perfect Results Every Time

Our unique 5 stage pre-treatment process, combined with our state of the art equipment and experienced staff ensures a superior powder coating finish for each piece that goes down the line.
The Human Element

Our state of the art conveyor line is manned by an experienced staff to ensure a quality job done each and every time.
Local Service

We provide conveyor line powder coating service at our state of the art facility in Denver, PA and can easily serve customers throughout NJ, DE, Maryland and Southeastern PA.
Contact Precision Coatings today for quality powder coating service for your application.